Unleashing Magical Worlds
Welcome to Balance of Seven's first-ever crowdfunding campaign! This summer campaign is designed to ensure the publication of four incredible works of fiction: Axis, book two of the Siren Tragedies, by Sarah V. Hines; Beautiful Serpent, Restless Embers by D. Y. Freeman; Bookstories by Sarah Tollok; and Princess of the Pomegranate Moon by Emily Wynne. Each of these engrossing books was written by a powerful woman author with a talent for creating thought-provoking worlds with compelling characters and plots.
Your contributions to our Unleashing Magical Worlds campaign will help us produce a year's worth of quality literature, by paying for cover art, editing, printing and production fees, and so much more. You will also be supporting diverse voices in fiction and further empowering our authors to continue using their imaginations to create magic.
To learn how you can make a difference, visit the Unleashing Magical Worlds campaign page, or continue reading to learn more about the stories your contributions would support.

The Unleashing Magical Worlds campaign supports four books.
Axis
Coming October 27, 2023
Sequel to the previously published Hubris, this international urban fantasy brings ancient myth to modern day. Faced with the threat of her violent father, a millennia-old Siren must unravel her past and harness overwhelming powers—or risk becoming the very monster she hopes to take down.
For a taste of the world of the Siren Tragedies, check out "The Storm: A Siren Tragedies Story" by Sarah V. Hines.
Bookstories
Coming March 8, 2024
This cross-genre tale interweaves literary and speculative elements in a braided narrative about the interconnectedness of stories and life. A publishing house slush reader with an empathic gift for understanding people by reading their writing has met her match. A series of breathtaking but incomplete stories that reveal to her not a single detail about their author leads her on a decades-long search that questions the importance of a story's ending.
Join the hunt for a great story with the first chapter of Bookstories, "Unfinished."
Beautiful Serpent, Restless Embers
Coming April 5, 2024
A gothic, esoteric fantasy about a young woman who defies her fate. As she flees those who wish to control her, she must embrace the staggering power within that others have taught her to fear—or fall to the madness that haunts her.
Dive into the world of the Damica with these Beautiful Serpent, Restless Embers character profiles.
Princess of the Pomegranate Moon
Coming November 17, 2023
A mystic sword-and-sorcery fantasy set in a dying Earth, where the present day has been all but forgotten. A young trans woman explores the legacy of her past and the ghosts of a half-remembered history that intersect it.
Join her quest beneath the Pomegranate Moon with the first chapter of Princess of the Pomegranate Moon, "The Dancer."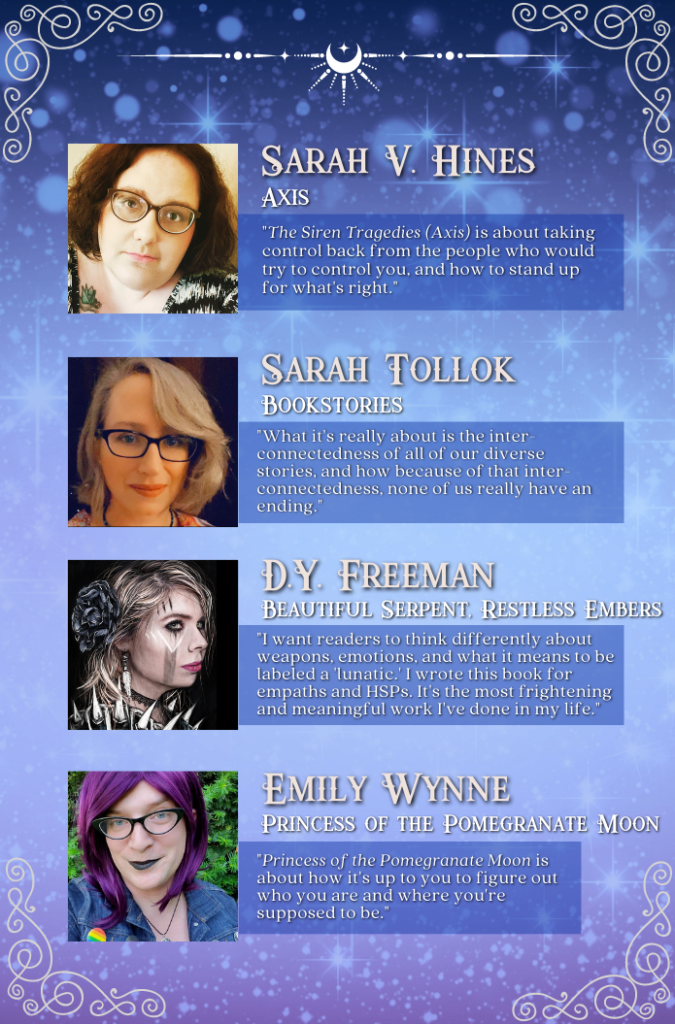 Help us make these books a reality by contributing to our Unleashing Magical Worlds crowdfunding campaign.